The BENCHMARK™ BMX®96 Access System is designed for today's most complex neurovascular interventions. The advanced stainless steel hypotube technology of BENCHMARK BMX96 provides distal deliverability and proximal stability for most complex therapies. Furthermore, the catheter's .096″ (2.44 mm) lumen is designed to increase procedural versatility and intraprocedural visualization.
Prepackaged options with Penumbra 6 F (2.4 mm) Select™ Catheter enables Rapid Primary Access into final position, eliminating the need for an over-the-wire exchange.
BENCHMARK BMX96 Access System

8 F OD (2.77 mm) delivery catheter
.096″ (2.44 mm) ID expands procedural versatility and intraprocedural visualization
Soft, atraumatic tip design for distal placement
Mechanically optimized proximal shaft designed to maximize procedural stability
Prepackaged options with Penumbra 6 F (2.21 mm) Select Catheter for Rapid Primary Access
Packaged with a dilator designed to provide seamless dilator-to-catheter transition (.038″ guidewire compatible)
Tip Shapes: Straight, MP
Lengths Include: 80 cm, 90 cm, 100 cm

6 F Select Catheters

Allows for easy selection off arch into desired vessel
Designed to deliver BENCHMARK BMX96
Low-profile, tapered 5 F distal segment
Designed to facilitate atraumatic placement into distal vasculature
Can be used for diagnostic angiogram – .040″ (1.02 mm) lumen
Compatible with all .035″—.038″ (.89 mm—.97 mm) guidewires
Tip Shapes: SIM-V, SIM, BER, H1
Lengths Include: 105 cm, 125 cm
Related Cases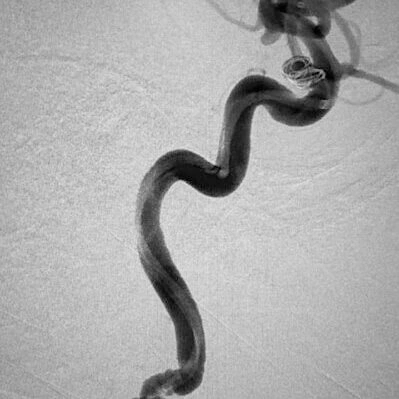 Flow Diverter Embolization
Contrast injection through BENCHMARK BMX96 and BMX96 Tracking for Flow Diverter Embolization.
Dr. Ryan Viets
Scripps Memorial Hospital La Jolla, CA

Carotid
Stenting
BENCHMARK BMX96 Supporting Delivery of Two Balloons and a Tapered Carotid Stent.
Dr. Robert Starke
Jackson Memorial Hospital, FL
Images used with permission and provided for illustrative purposes only. Procedural techniques and decisions based on physician's medical judgment. Individual results may vary. Consents on file at Penumbra, Inc.
Resources
Therapies & Conditions

Learn more about how our products are used for a broad spectrum of conditions.