The Artemis™ Neuro Evacuation Device is intended for the controlled aspiration of tissue and/or fluid from the Ventricular System and/or Cerebrum. The Artemis Device works in conjunction with a neuroendoscope through a 19 F (6 mm) sheath. Together with Pump MAX® Aspiration System, Artemis offers powerful and controlled evacuation.

Minimally invasive cranial access utilizing a 14 mm burr hole with 19 F sheath
Powerful and controlled aspiration up to -29 inHg (or 98.2 kPa)a
Compatible with neuroendoscopes with working channels 1.6–2.9 mm
Recessed bident at distal tip maintains cannula patency and aspiration

a. Data on file at Penumbra, Inc.
Related Cases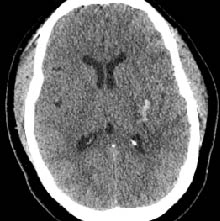 Artemis Endoscopic Neuroevacuation
Dr. Dimitri Sigounas
George Washington University Hospital, Washington, D.C.
Artemis Endoscopic Neuroevacuation
Dr. Christopher Kellner
Mount Sinai Health, NY
Images used with permission and provided for illustrative purposes only. Procedural techniques and decisions based on physician's medical judgment. Individual results may vary. Consents on file at Penumbra, Inc.
Resources
Therapies & Conditions

Learn more about how our products are used for a broad spectrum of conditions.