The Penumbra Coil 400™ (PC400™) is a .020″ primary diameter coil. PC400 is designed to enable higher packing densities using fewer coils, leading to potential efficiencies in procedure duration, time under fluoroscopy, and treatment cost.a
.020″ primary diameter coil designed to provide a volume advantage over 10-system coils

40% reduction in procedure durationa
32% reduction in fluoroscopy timea
36% reduction in treatment cost compared to 10-system coilsa

Offering includes multiple shapes and softness levels:

Complex Standard
Complex Soft
Complex Extra Soft
Curve Extra Soft

Sizes range from 2–32 mm in diameter and 1–60 cm in length
Designed to be delivered through .025″ PX SLIM™ Delivery Microcatheter
Ultra HD Fiber for stretch resistance

3× stronger and more flexible than conventional polypropylene b

Instant mechanical detachment
Single disposable handle packaged separately

a. Berge J, Gariel, F, Marnat G, Dousset V. PC400 volumetric coils minimize radiation, reduce procedure time and optimize packing density during endovascular treatment in medium sized cerebral aneurysms. J Neuroradiol. 2016 Feb;43(1):37-42. Doi:10.1016/jneurad.2015.10.002.

b. Tests performed and data on file at Penumbra, Inc. Bench test results may not be indicative of clinical performance.
Related Cases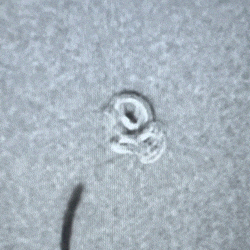 Small Basilar Tip Aneurysm
Total Coils: 2
Final Packing Density: 44.2%
Total Length of PC400 Coils: 6 cm
Equivalent Total Length of .014″ Coils: 12 cm
Dr. Raj Agrawal
University Medical Center, NV
Small Ruptured AcomA Aneurysm
Total Coils: 1
Final Packing Density: 47.1%
Total Length of PC400 Coils: 2 cm
Equivalent Total Length of .014″ Coils: 4 cm
Dr. Don Frei
Swedish Medical Center, CO
Images used with permission and provided for illustrative purposes only. Procedural techniques and decisions based on physician's medical judgment. Individual results may vary. Consents on file at Penumbra, Inc.
Resources
Therapies & Conditions

Learn more about how our products are used for a broad spectrum of conditions.